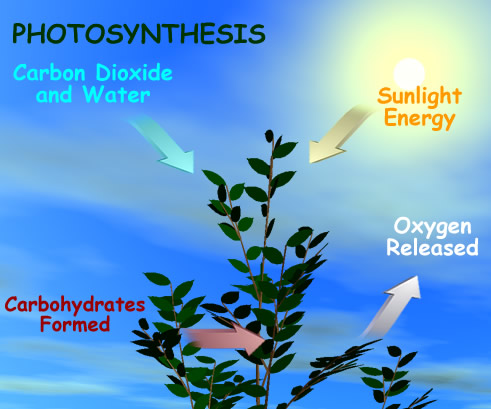 Science is learning how plants are designed to regulate carbon dioxide in the atmosphere.
Defination: carbon dioxide
–noun: a colorless, odorless, incombustible gas, CO2, present in the atmosphere and formed during respiration, usually obtained from coal, coke, or natural gas by combustion, from carbohydrates by fermentation, by reaction of acid with limestone or other carbonates, or naturally from springs: used extensively in industry as dry ice, or carbon dioxide snow, in carbonated beverages, fire extinguishers, etc.
Use by humans: Humans use carbon dioxide in many different ways. The most familiar example is its use in soft drinks and beer, to make them fizzy. Carbon dioxide released by baking powder or yeast makes cake batter rise.
Some fire extinguishers use carbon dioxide because it is denser than air. Carbon dioxide can blanket a fire, because of its heaviness. It prevents oxygen from getting to the fire and as a result, the burning material is deprived of the oxygen it needs to continue burning.
Carbon dioxide is also used in a technology called supercritical fluid extraction that is used to decaffeinate coffee. The solid form of carbon dioxide, commonly known as Dry Ice, is used in theatres to create stage fogs and make things like "magic potions" bubble.
First, when carbon dioxide levels go up, many plants increase their use of carbon dioxide, making more oxygen.
Second, at higher carbon dioxide levels, plants tend to make tissue that doesn't decay as easily. This ties up the extra carbon for longer periods of time.
Third, at higher carbon dioxide levels, plant tissues discourage insects from eating them, decreasing the re-release of the plants' carbon as carbon dioxide.
Our Creator expects us to take care of His creation. He knows, however, that we cannot control all of the possible changing conditions on planet Earth. For this reason He has built mechanisms into the creation that adjust to changing conditions and maintain a suitable habitat for human life.
Portions of the above document were taken from Letting God Create Your Day, Vol. 3, p.77 and quoted in A Closer Look At The Evidence by Richard & Tina Kleiss. The first three paragraphs were taken from dictionaries.
The heaven, even the heavens, are the LORD's: but the earth hath he given to the children of men. (Psalm 115:16 KJV )
426