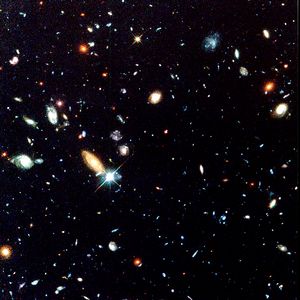 There are more than 1022 stars in the universe, but each one is unique. No two stars have exactly the same properties. This may sound like guesswork, since we have analyzed very few stars in detail; but the conclusion is a certainty. A star has so many variables that the probability of two identical stars is essentially zero. These variables include the total number of atoms, the exact composition of elements, its size, and its temperature. Some stars show obvious color and brightness differences. Others require spectroscopic study to detect each star's particular identity or fingerprint.
The Bible states in I Corinthians 15:41 that "star differs from star in splendor." How could ancient man have known this? It is only logical to conclude that the Creator of the stars chose to tell man to include this in the Bible. In Psalm 147:4 the Bible also says that God "determines the number of stars and calls each by name." Truly God's abilities have no limit.
The above document is from Astronomy and the Bible, p.56-57 as quoted in A Closer Look At The Evidence by Richard & Tina Kleiss.
The sun has one kind of splendor, the moon another and the stars another; and star differs from star in splendor. (1 Corinthians 15:41)